Downloadable resources for planning, updating & supporting optics and photonics programs.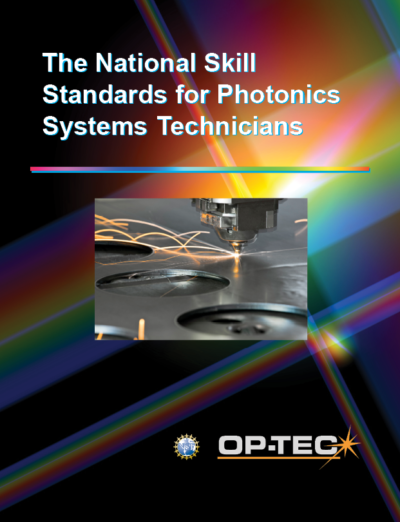 The National Skill Standards for Photonics Systems Technicians
The Skill Standards are composed of three elements:
A broad job description of a Photonics Systems Technician
Seven Critical Work Functions with Specific Work Assignments under each Critical Work Function
Soft Skills, or "Employability Skills"
The Critical Work Functions and specific work assignments provide the information that is needed to identify the technical content and competencies for designing and developing the photonics specialty courses. The required math, science, communications and related technologies are determined from the photonics technical specialty courses.
Specific, in-depth knowledge and skills for technicians working in one or more photonics applications may require additional coursework or on-the-job training. Colleges serving employers with a concentration in one of the application areas are encouraged to provide the National Skill Standards for Photonics Systems Technicians to their employer advisory committee and solicit recommendations for additions or modifications to their curriculum plan.
Author(s): OP-TEC
ISBN: 978-0-9998536-1-0
Publisher: OP-TEC
Year: 2018
Category: Skill Standards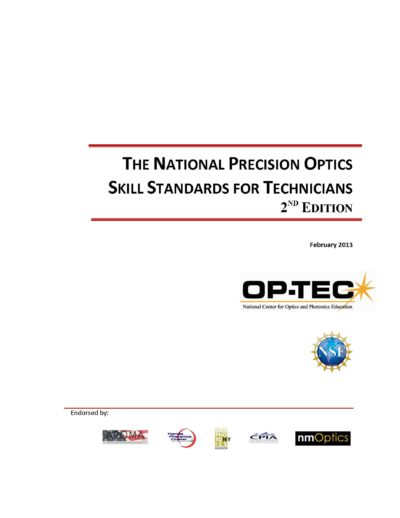 The National Precision Optics Skill Standards for Technicians – 2nd Edition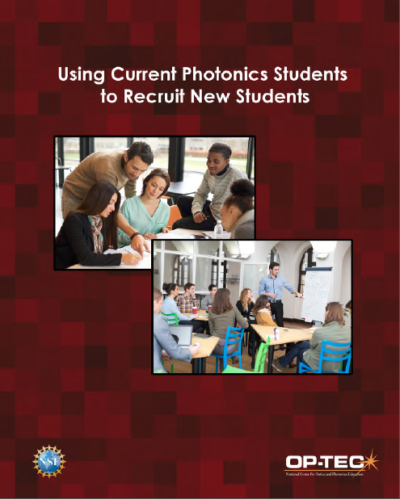 Using Current Photonics Students to Recruit New Students
This monograph proposes a plan and describes a strategy for developing and maintaining strong, effective student recruitment to support program enrollment.
Photonics associate degree programs at two-year colleges across the nation must all acquire robust enrollments to assure their continued existence—and to produce an adequate technician workforce for the U.S. photonics industry. Increased enrollments and more completers strengthen such programs, which in turn benefits deserving students who are interested in pursuing very rewarding careers in an interesting and dynamic field.
The purpose of this monograph is to propose a plan and describe a strategy for developing and maintaining strong, effective student recruitment to support program enrollment. The monograph presents the need and rationale for focused student recruitment, strategies for using current students as program recruiters, and the benefits these students acquire by serving as recruiters. Specifically, recruiting new students helps current students gain "soft skills" that employers value in new employees, including skills in team building, leadership, planning, scheduling, evaluating, data collecting, and record keeping. The closing sections of the document provide information about proven resources and recruitment events.
We hope this document will spark interest in using students as recruiters among faculty members who desperately need this help. Comments and suggestions are welcome and will be considered if and when a revision is called for.
Author(s): Dan Hull, Gary Beasley, Greg Kepner and Dorian McIntire
Publisher: OP-TEC
Year: 2017
Category: Monographs and Reports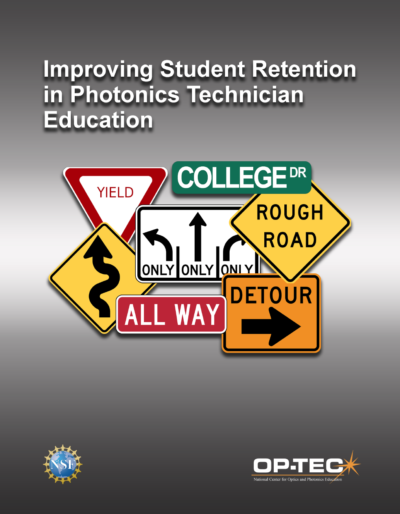 Improving Student Retention in Photonics Technician Education
This monograph presents successful student retention strategies of seasoned photonics faculty members to other faculty members so that they may greatly increase their students' completion rates.
Photonics is a cutting-edge technology that embraces emerging applications such as advanced manufacturing, aerospace, defense, diagnostics and other biomedical equipment, lighting, digital equipment and devices, energy sources and conservation, virtual and augmented reality, and environmental monitoring. Photonics technicians engage in creative, rewarding careers that can lead to professional advancements and leadership opportunities.
Photonics is uniquely interesting, but it can be challenging for technician students to complete a two-year associate degree program that requires understanding and using significant math and physics principles, as well as electronics, controls, and materials sciences. Excellent photonics technicians are hands-on learners who can understand all these principles and technologies if they are presented in the context of how they are used—and if they are willing to face the challenges, study and work hard.
Some photonics students are not prepared; others lack motivation, and still others lack confidence that they can complete this program of study. Dropout rates among photonics students can be high, but the experiences of seasoned photonics faculty members have proven that retention can be greatly improved through the use and adaptation of proven strategies. This monograph collects these successful strategies and offers them to other faculty members so that they may greatly increase their students' completion rates.
Author(s): Dan Hull
Publisher: OP-TEC
Year: 2017
Category: Monographs and Reports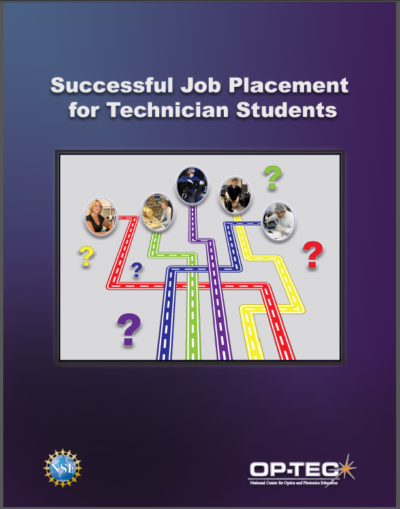 Successful Job Placement for Technician Students
A college degree—whether from a community college, a four-year college, or a university—no longer guarantees that student completers will have opportunities for rewarding employment, substantial income, purposeful and interesting work, and long-term career potential. To remedy this problem, institutions of higher education have begun offering certificates, internships, and other trusted credentials that ensure that their graduates will be employable.
However, when students' postsecondary education includes substantial career preparation in science, engineering, technology, business, or health services, they continue to enter promising careers—with one caveat: these students must also be guided to understand their fields of employment, identify employers in their fields, gain experience in the workplace, and make thoughtful decisions about job opportunities and possible locations where they might live and work. Institutions and their faculty have a responsibility to not only educate and train students for work, but also provide them with information, experiences, job preparation tasks, and contacts with potential employers.
Every year, employers in fields such as photonics demand more new technicians than community and technical colleges are producing. Students who complete these education and training programs receive multiple job offers at very substantial salaries. But for technician students to make the best choices, they must be prepared to evaluate their own interests and needs, and they must be connected to relevant employers. Although most colleges give students some help as they search for jobs, the primary responsibility lies with the faculty. Experienced faculty members have become sensitized to this need and have developed experiences, tools, and strategies that prepare their students for rewarding and successful employment.
We asked college faculty members who have been teaching photonics technician students for periods ranging from eight to thirty years to share with us the strategies, experiences, and resources they use to help their students secure desirable jobs in a timely manner. We also asked photonics employers who have hired many technicians from two-year colleges to share with us the criteria they use to interview and select candidates for employment in their organizations. Here, we draw on the contributions and recommendations of these educators and employers to describe successful strategies, models, and tools for student placement.
Some of the ideas we present may not be useful for all colleges. Their usefulness will depend on your institution's location, the technical emphases of your coursework, and the support available from your college, former students, and employer advisory committees. We recommend reviewing the various ideas, choosing the ones that are most appropriate for your situation, and developing a suitable Plan for Student Placement.
Author(s):  Dan Hull with contributions from Gary Beasley, Ron Darbee, Dorian McIntire, Frank Reed, Fred Seeber, Bill Shiner, and Gordon Snyder.

Publisher:  OP-TEC
Year:  2017
Category:  Monographs and Reports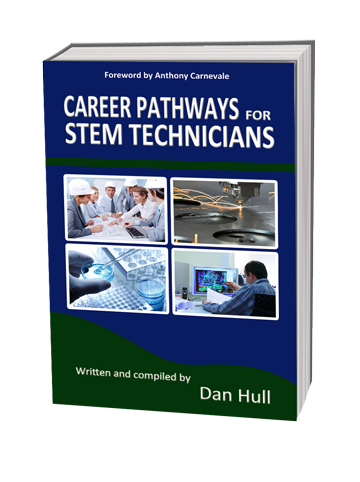 Career Pathways for STEM Technicians
Career Pathways for STEM Technicians was compiled by Dan Hull, Executive Director of the National Center for Optics and Photonics Education (OP-TEC), with twenty two contributors, including eight chapters from different STEM technology fields. The book presents a win-win solution to two problems that are facing our nation:
1) we don't have enough technicians to support continued technological innovation or to staff the organizations that could improve our country's security and economic position in the world; and

2) we don't have adequate educational opportunities for capable students who might be interested in entering rewarding careers as technicians.
STEM technicians are a crucial part of the technical workforce needed to maintain our national security and economic prosperity. This technical workforce is like a three-legged stool, consisting of scientists, engineers, and technicians; the leg of this stool in shortest supply is technicians who, according to Dan Hull are the "geniuses of the labs and masters of the equipment." Dan is a Registered Professional Engineer with over 13 years of experience in laser engineering and management, and 30 years in technical education research and development.
The book is both a visionary document and a how-to manual. The solution proposed in the book is to create career pathways for STEM technicians in the existing 4000 STEM high schools that would inform, encourage, recruit, and prepare students to enter community college associate degree programs in emerging technologies. "We already have the tools and institutions in place to implement the proposed solution," says Hull, "the dilemma is that not enough students are enrolling in emerging technology associate degree programs, and most STEM high schools are not attracting and serving the students who have the greatest potential to become the technicians we need."